Skip to Content
Cabana X Products to Shade Rhode Island Residents
Retractable Solutions Inc is committed to offering our clients some of the industry's best shading options. We appreciate brands that merge convenient technology with stunning design and provide them to Massachusetts, Connecticut, and Rhode Island residents. Cabana X is a shade solution for outdoor living, adapting to the owner's needs with adjustable louvers, remote control operation, and other features. You can use this pergola for dining, exercise, meditation, and anything else you wish to do outdoors. Our team will gladly inform you of all the Cabana X has to offer.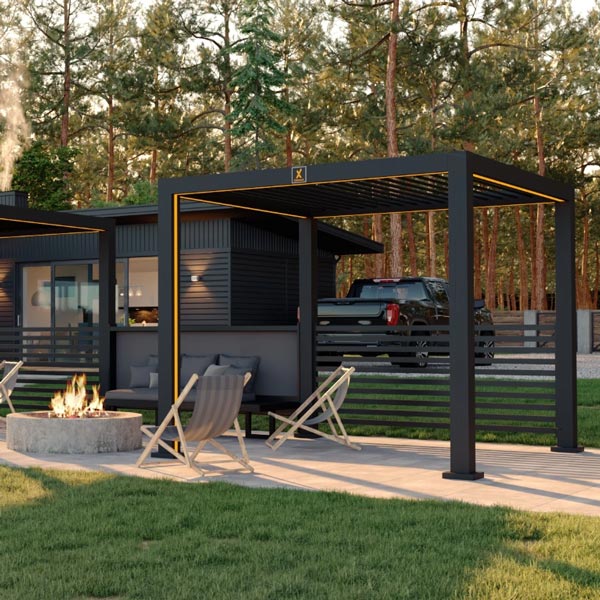 Enhance Your Outdoor Space with a Cabana X Pergola
If you desire a pergola that adapts to your needs, the Cabana X is an ideal solution Retractable Solutions Inc sells and installs. Cabana X pergolas provide a unique space for homeowners to connect their bodies, minds, and spirits. It protects you from the elements and lets you enjoy the outdoors. You can start your morning using the pergola as a yoga studio and transform it into a dining room in the evening. Cabana X is a blank canvas, adapting to be whatever space you need.
Features to Create an Ideal Shady Spot
The Cabana X Core package includes features like post height adjustment, interchangeable panels, motorized adjustable louvers, and a hand-held remote. You get durability with its stainless-steel hardware and premium powder coat finish, while the unit is also enhancement-ready for you to upgrade and personalize your pergola. With the Core+ tech, you can control your pergola using an app and enjoy controlled LED lights. This tech package also offers environmental detection, including ultraviolet (UV) radiation, humidity, temperature, and air quality. You get control over the louvers and lighting with easy operation.
Trust Retractable Solutions Inc With Sales & Installation
Retractable Solutions Inc is ready to help you choose the perfect shading solution for your outdoor living space. The Cabana X is a stylish and convenient pergola with easy remote-control operation and enhancements available to optimize your backyard dining and relaxation. We offer sales and installation with fast and friendly service, so you can use your new pergola quickly and make the most of the outdoors. Let our team walk you through our options to optimize your extended living space.
Contact Us Today for Weather Protection & Shade Solutions